01 - Pit Lane Timer Introduction
Last updated
The Pit Lane Timer acts as an automatic timing system for pit stops. It ensures that you can minimise the time spent in the pits without incurring a penalty. It prompts you when to leave your pitbox, and warns in advance if you are going to cross the line too early.
GPS Antenna Placement
Place the GPS antenna in the middle of the roof, or, if you have no roof, as high up as possible, on a solid ground plane and at least 5 cm away from any metal objects.

Recording Media
Compatible media
Racelogic's Pit Lane Timer can record to MMC, SD, SDHC and SDXC media cards that are formatted in a FAT or FAT32 format.
SDXC cards will be formatted as exFAT by default, a format type not supported by Pit Lane Timer. They can still be used, as long as they have been reformatted to FAT32. Various free third party applications are available online to format SDXC cards. Click here for more information on how to do this.
Memory usage
If the SD card used has less than 10 MB of space remaining a warning symbol flashes periodically to indicate the amount of memory remaining.

LED Operations
Pit Lane Countdown
Using the configured minimum pit lane time, and the pit to exit time, the Pit Lane Timer will trigger an internal countdown either as soon as the pit entrance line is crossed (entrance to exit mode) or when your vehicle speed reaches 0 (stationary in pit mode).

When this time reaches 0.00 - the LEDs will light GREEN.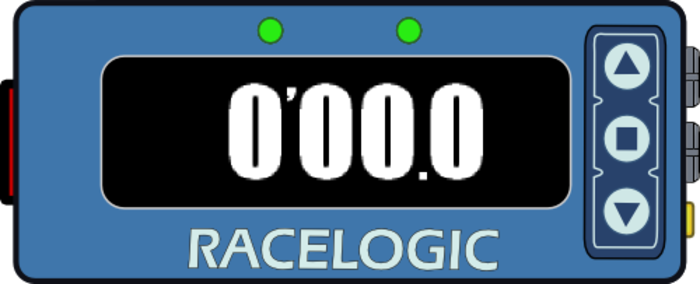 Pit Lane Speed
After the counter has reached 0.00 and the vehicle moves out of the pit box, the LED's will either be OFF, GREEN or RED.
Entrance to exit timing mode works off the pit to exit time to calculate the predicted pit exit time, while also monitoring the pit lane speed limit.

Stationary in pit timing mode will show a live speed value. Using the 'pit lane speed limit' and 'speed limit warning' values, the display will indicate if the driver needs to slow down, or speed up.

When the LEDs are RED, the Pit Lane Timer will also sound a continuous beep.
Hardware Connections
Standalone

Using with Video VBOX Pro
Note: Only the Video VBOX Pro antenna is required.
Using With Video VBOX Lite
Without OLED Display
With OLED Display
Using with Video VBOX Waterproof