The Ribbon bar is the main control panel for the VBOX Test Suite software. From here it is possible to access all functions of the software and open 'tests'. Each area of the software is grouped into 'tabs' which automatically appear when the user has clicked the relevant area of the software. These tabs include:-
Each of these tabs and the function of the buttons they contain, are described on the linked articles.
Hiding the Ribbon bar
To maximise space when using a Tablet, the ribbon can be hidden by pressing the 'Hide ribbon' button in the top right hand corner of the ribbon bar.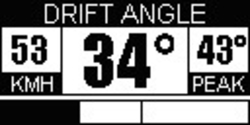 When this button is pressed, the whole ribbon will collapse and can be shown by pressing the same button again.
With the ribbon bar collapsed, it is still possible to briefly display the various tabs by selecting them. Once clicked, the tab will display until the user clicks away from that tab.